Protexis® Latex Hydrogel Surgical Gloves
Sterile latex surgical gloves that feature our exclusive hydrogel coating, making them easy to don, and easy to wear.
Product description
Ordering information
Packaging details
Protexis® Latex Hydrogel Surgical Gloves feature our exclusive hydrogel coating that makes them easy to don, while enhancing the second-skin comfort of latex.*
Protection
Natural rubber latex1,2
Balances tactile sensitivity with protection, even when double-gloving
Performance
Unique translucent yellow color
Proprietary hand mold with an independent thumb design allows for an anatomical fit and natural movement in the fingers, thumb and palm
Featuring an interlocking, beaded cuff design that helps to reduce roll-down

Footnotes and references:
* As compared to Protexis® Latex Surgical Gloves
1 Tested in accordance with ASTM D 5712
2 Caution: This product contains natural rubber latex which may cause allergic reactions.
| Size | Catalog no. |
| --- | --- |
| 5.5 | 2D72LS55 |
| 6 | 2D72LS60 |
| 6.5 | 2D72LS65 |
| 7 | 2D72LS70 |
| 7.5 | 2D72LS75 |
| 8 | 2D72LS80 |
| 8.5 | 2D72LS85 |
| 9 | 2D72LS90 |
50 pairs/box, 4 boxes/case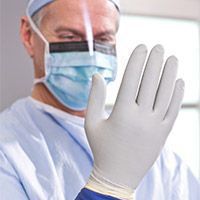 Stay protected with clinical best practice tips, industry news and new product announcements.
Our mission is to protect you and your hands that heal, so that you can focus on your patients. Sign up to stay up-to-date on hand protection tips from other clinicians, stories and highlights from organizations that have implemented clinical change in their ORs, and tools and education to help you find your Perfect Fit in surgical gloves.
Continuing education
Continuing education activities at your fingertips.
Offering surgical glove CE courses to advance your surgical knowledge. Topics include appropriate glove selection and use, double-gloving, review of workplace safety standards and regulations, and the potential risks associated with powdered surgical gloves.