ASTM Level 3 Procedure Mask
ASTM Level 3 Masks offer clinicians the protection they seek, without compromising the comfort and breathability they expect. Designed for fluid protection.
Product description
Ordering information
Procedure Level 3 Mask features
Boxes with purple packaging (ASTM Level 3)
ASTM F2100-11 Level 3
Not made with natural rubber latex
Anti-fog foam feature
Plastic laminated nose wire
Procedure (earloop) securement
Softex binding (edge tape)
Available in the following color: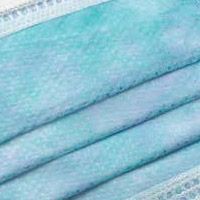 Mediterranean blue
ASTM Level 3 characteristic
ASTM Level 3 Masks meet the highest performance requirements as defined by ASTM F2100-11.
| Characteristic | Level 3 |
| --- | --- |
| Bacterial filtration efficiency | ≥98% |
| Sub-micron particulates filtration efficient at 0.1 micron | ≥98% |
| Differential pressure, mm H20/cm2 (Breathability) | <5.0 |
| Resistance to penetration by synthetic blood, minimum pressure in mm Hg for pass result | 160 mm Hg |
| Flame spread | Class 1 |
Mediterranean blue
 

Cat no.

Inner layer

Dual middle layer

Outer layer

Mask style

Eyeshield feature
Anti-Fog feature

UOM

AT74531

Cellulose

Facing and filter media

Spunbond polypropylene

Pleated

 
Foam

50/bx, 300/cs

AT74631

Cellulose

Facing and filter media

Spunbond polypropylene

Pleated
Integrated eyeshield
Foam

25/bx, 100/cs